Resonance—a key to ITC contacts
A hundred years ago, Nikola Tesla worked with oscillators—small devices that create vibrations of regular rhythms. In his lab in New York he would adjust the pitch of oscillators and watch with interest as they reached resonance with different items around the room, which would start to shake—first maybe a chair, then a desk, then a lamp. One night he strapped an oscillator onto the thick steel pillar that ran up through his ceiling and down through the floor. As he adjusted the vibrations, the pillar started to shake. Then, the entire building began to tremble. Soon, the vibrations ran down through the pillar into the bedrock below Manhattan to set off an earthquake.
Nikola Tesla knew that vibrations were the stuff of life, and that bringing vibrations into resonance can produce forces that profoundly affect our physical world, for better or worse. He claimed that if he could match the Earth's resonant frequency with the right equipment, he could send information to any location in the world very easily and inexpensively, using the planet itself as the carrier. If the wrong equipment were used, he warned, he could split the planet apart like an apple.
Electromagnetic waves and material objects are not the only things which can achieve resonance. When two or more people resonate with one another in their feelings, thoughts, and attitudes, powerful forces are generated which open the way to smooth interaction and communication at the subconscious or spiritual level. There is a chemistry and compatibility among them which is not present in most relationships. Wonderful things can unfold when such resonance occurs among human beings.
With the right attitude and a "good heart," I believe we can achieve resonance not only with other people, but also with other life forms on this planet. And not only with life on this planet, but also with positive, vibrant beings who reside in more finely spun realms of existence which are right here, all around us, beyond the perception of our physical senses. Resonance between a group of humans and a team of elevated spirit friends, I believe, is the principle behind ITC contacts received by researchers in various countries in recent years, such as the following:
Adolf Homes reconnects with his long lost mother
Adolf Homes of Rivenich, Germany was just an infant when his mother, Elise Caroline Homes, died. Apparently the loss left a hole in his life which would remain until his later years. When he became interested in technical spirit communication in 1987, he quickly began to get tiny spirit voices on tape during his daily experiments with a radio and tape recorder.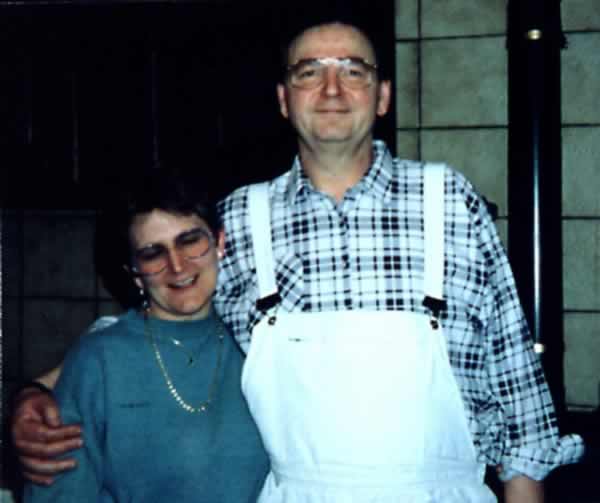 Adolf Homes and his wife Rosi
That year he struck up a friendship with another German man, Friedrich Malkhoff, from nearby Schweich, who also had become fascinated with technical spirit communication.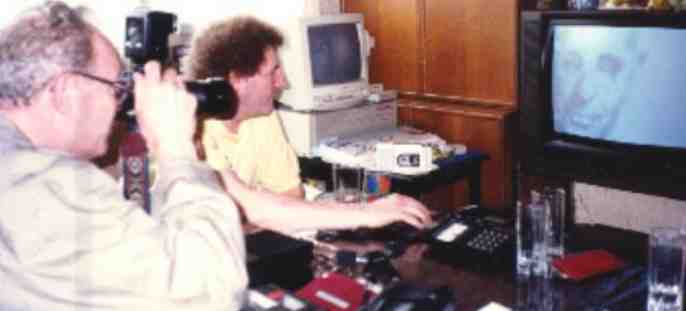 Fritz Malkhoff (yellow shirt) with colleague Hans Heckmann,
analyzing spirit image of "Doc Mueller" on television
Before long, the two men were receiving phone calls and computer contacts from the Centrale spirit group. On one occasion, Adolf turned on his computer and found an image of his mother in spirit. The rapid ITC progress of Malkhoff and Homes, I believe, was made possible by resonance between the two men and, more importantly, between Adolf Homes and his departed mother.
The love story of George and Jeannette Meek
Meanwhile, across the Atlantic, George and Jeannette Meek were enjoying their golden years. Since George's retirement from a career as an industrialist, he had immersed himself in the pursuit of understanding man's basic nature. The Meeks founded the Metascience Foundation and sponsored research trips around the world with teams of scientists, researchers and doctors to explore such phenomena as energy healing in the Philippines and acupuncture anesthesia during major surgery in China.
In 1980, George was working with a gifted psychic named Bill O'Neil to develop the Spiricom device, a set of 13 tone generators that allowed dialog between Heaven and Earth through electronic equipment for the first time ever.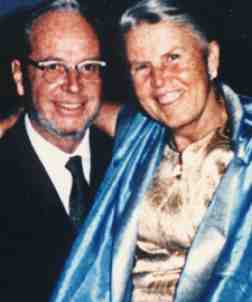 George and Janette Meek
In 1980, George was working with a gifted psychic named Bill O'Neil to develop the Spiricom device, a set of 13 tone generators that allowed dialog between Heaven and Earth through electronic equipment for the first time ever.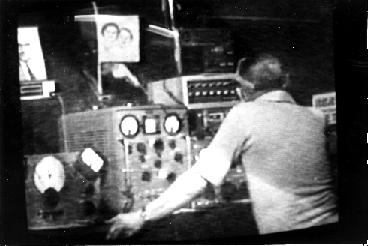 William O'Neil and the Spiricom device
It was an historic occasion. There was a 20 hour dialog between Bill O'Neil on Earth and George Jeffries ("Doc") Mueller in spirit which came through the Spiricom device from 1979 to 1982
'Note: The excerpts are available in: MENU -> EVP & Audio. All excerpts have transcripts.
Doc Mueller had been an engineer with the National Aeronautic and Space Administration (NASA) before his death in 1967. In his dialogs through the Spiricom device in 1980, he provided his terrestrial colleague Bill O'Neil with a long list of personal facts, including social security and phone numbers, to verify the contact.

"Doc" Mueller in lifetime

"Doc" Mueller in spirit. An ITC photograph.
Jeannette Meek died in the spring of 1990, and before long she sent George a computer letter to prove to the world that she was enjoying the afterlife. George's aim, after all, was to convince the world that there is no death, and that life is eternal. Jeannette's letter to her husband George was delivered from the spirit worlds directly into a computer of Maggy Harsch-Fischbach and her CETL association in Luxembourg, which she operated out of her home. On February 21, 1991, Maggy and her husband Jules left for work in the morning, making sure everything was turned off in the house. When they returned home that evening, the computer was running and a file containing Jeannette's letter had been planted on the disk. All the while, George Meek was at home in North Carolina, unaware of this strange activity underway in Luxembourg. Jeannette's letter said, in part:
Dear G.W.
Well, it seems there are still people who do not believe in the contacts your friends here at CETL are having. Here are some details which except you…nobody can know"
In 1987, end of April, tenant Debbie called to say her refrigerator was off. It must have been on a Thursday morning… On April 29, Ann Valentin wrote another letter saying that she had not received the Magic of Living Forever booklets they had ordered, but Harlequin novels. Third story: John Lathrop (I don't think Maggy and Jules ever heard THAT name!) shut off the electricity at the "C" house to put in a new light…
Don't try to explain this, Honey. My never-ending love to you. I miss you so much, but I know we will be together.
Love forever,
Jeannette Duncan Meek
The letter contained details from their life together that were of no significance to anyone—not even to George—but they fulfilled Jeannette's wish; they proved conclusively that the letter had been written by no one other than Jeannette, who had left the Earth a year earlier. She was quite obviously still very much alive in the next world. So, yes, life does indeed continue!
On November 21, 1992, Jeannette sent George a picture of herself from what our spirit friends call the "fifth level of human existence".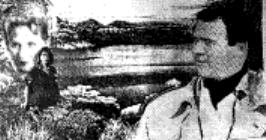 Again, the picture came through the computer of Maggy Harsch-Fischbach of Luxembourg, and it showed the beauty of that spirit world, which we on Earth sometimes called the higher astral planes, Heaven, or the Summerland. Jeannette showed up as a lovely, young face superimposed over the landscape. Another young woman in a dark dress is also present in the picture. That is the Meeks' daughter, Nancy Carol, who had died at the age of two weeks and was reunited with her mother Jeannette after Jeannette's transition. On the right side of the picture is the face of a man whom our spirit friends identified as Hal Roach, the American film producer.